September 16, 2003
Offshoring and outsourcing
Had an interesting conversation with my friend MA [I'll use initials unless people tell me otherwise...] the other night about the state of the economy. He's a hedge fund manager, so he's fairly in tune with this stuff. We talked a bit about the recent jobless productivity gains and the new figures projecting 4% plus annualized growth for the third quarter.
MA thinks that this growth will be jobless for the forseeable future, since most of the productivity gains are due to outsourcing, offshoring and other structural employment changes. He's convinced that once the jobs go away, they won't come back.
MA painted a pretty bleak picture, arguing that unlike the offshoring of manufacturing jobs, the move of service jobs will happen extremely quickly, overwhelming even the legendary resilience of the US economy.
Dan Drezner points to The Institute for International Economics recent indication that they think there's some good news ahead, including "substantial numbers of new US jobs in the fourth quarter of this year."
Forbes is also reporting that of 16,000 employers surveyed, 22% said they plan to increase their workforce in Q4.
But back to the larger issue....
Yesterday, I saw this article in CIO Magazine about the backlash against, and twice-thinking going on about, outsourcing IT services. I think it's part of the larger phenomenon that it's harder than people think (for educational, cultural, geographic, etc. reasons) to replace an American with a foreign worker. Certainly, manufacturing jobs didn't leave as quickly as free-trade opponents said they would for many of the same reasons (though they've sense picked up speed, I think).
But, in the seventies and eighties no one expected a huge, booming service economy to replace fleeing manufacturing jobs. Are we in store for another surprise structural shift, or has our luck run out?
McKinsey Global Institute is relatively bullish in their report: Offshoring: Is it a Win-Win Game?. They calculate that for offshoring $1.00 of US labor costs, $1.45 of value is created globally with $1.12 accruing to the US and $0.33 to the foreign country (India in their example). And they have patented McKinsey waterfall charts to prove it....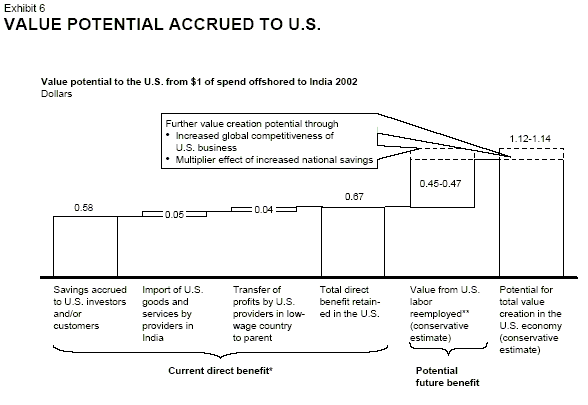 Posted by richard at September 16, 2003 11:18 PM