July 09, 2004
18 Tir
Today is the fifth anniversary of the July 9 Iranian student demonstrations. 18th of Tir : Anniversary of July 9, 1999. (Although in the Iranian calendar it actually happened yesterday).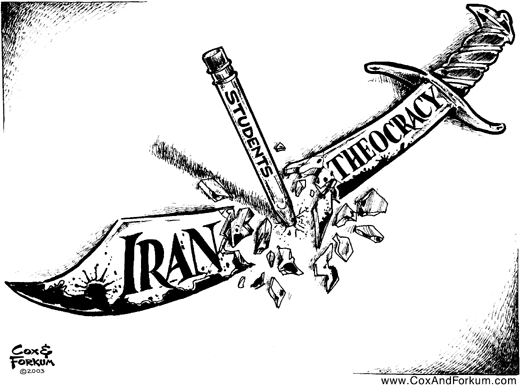 I glad that Bush made a strong statement to commemorate this day and support the student movement. I've heard it said that he is the first head-of-state to mark the event, and if so, I'm proud that he did. (So far, Kerry seems to have not made any reference – if I'm wrong, please let me know).
Pejman Yousefzadeh has several links, including to the BBC retrospective and news from yesterday's protests in Iran.
Andrew Sullivan has more.
As does the Student Movement Coordination Committee for Democracy in Iran.
Posted by richard at July 9, 2004 12:00 PM