July 04, 2004
Liberal Media.
I have had a request for some time now to go beyond my anecdotal (and sometimes snarky) posts about liberal media bias, and deliver a more coherent critique. Mike F. wants to know whether I really believe that the media is biased, and if so, why I think that when outlets such as Fox News, the Washington Times, and Wall Street Journal exist. This topic has also been the subject of several e-mail discussions with Brad A. as well.
So I thought it worth spending a bit of my fourth of July weekend spelling out my reasoning when I say, yes, the media is liberal, and yes, it matters.
Complexities
Before I do, though, I want to make clear that I don't think that liberal bias is the only (or even predominant) factor that leads to bad reporting. In fact, I think that there are three other main factors that contribute to sloppy, one-sided journalism:

Laziness – it is often easier to fit the facts into a story you already know, than to discover the story hidden in the facts. In addition, partially because of the demands of 24 hour news channels and web sites, there seems to be less oversight and fact-checking, to make sure that the facts are accurate. See, for instance, these e-mails from a BBC editor lamenting the fact that "a significant number of BBC news reports are untrustworthy and littered with errors because the corporation's journalists fail to check their facts". The Greg Packer phenomenon is another example.
Commercialization – the consolidation of the media into the hands of huge conglomerates drives home the fact that news outlets are out to make a buck. While it's easy to overemphasize this, and imagine it a new trend (when were news papers ever not out to sell more papers?), as always it's worth taking into account the incentives that drive the news media. This trend could argue for news outlets that either cater to the, presumably conservative, interests of their corporate owners and advertisers or proliferate sensational, anti-administration scandals (a la Monica Lewinsky) that drive audiences.
Access – journalists need to cultivate and protect access to people in power in order to further their careers. From a game-theoretic point-of-view, journalism is a repeatable game, where the players make choices based on the understanding that they will play the game again tomorrow with the same people. This can obviously lead to favoring people in power (whether the press corps with Bush or CNN with Saddam) so that privileged positions can be protected.
These factors can also reinforce or oppose each other in complicated ways. Laziness combined with commercialization can lead to sensationalized, "manufactured" stories like Laci Peterson and Jennifer Smart where the news coverage basically is the story. Commercial interests in promoting scandal may conflict with the need to protect access. Also, short- and long-term incentives can conflict such that assets like "brand" and "journalistic reputation" are in tension with self-interested positions on specific issues. Finally, second-order effects might dominate is some situations. So, while one might assume that profit-maximizing corporations might want news that appeals to the broadest base of consumers, ones driven by advertisers might actually be driven to appeal to a smaller, yet more affluent and hence "valuable", subset.
There are also difficulties in dealing with a particular moment in time and how that relates to larger trends, for instance the current liberal frustration with being out of power in Congress, the executive, and by some accounts, the judiciary.
All this is even more complicated by the interplay between "objective news" and editorial opinion. If the New York Times fills it's op-ed section with liberal opinions (or the Wall Street Journal with conservative ones) but their "news" reporting is unbiased, are they part of the "liberal media"? What about cable news channels where news and commentary are not as clearly separated? Can we avoid assigning a label (liberal/conservative) based on editorial content? On the other hand, is it reasonable to believe that editors that select conservative columnists are going to be less selective in choosing and editing news stories? It's complicated.
So, I'm not coming at this from a simplistic model of the way the media works. But I do think that problems I've mentioned above are exaggerated and amplified by a insular and monolithic world-view, namely a liberal one, that dominates in journalistic circles. When a reporter, and all of her colleagues, are liberal, the meta-narrative that a lazy story will fit into will be a liberal one.
Anecdote and Argument
Anecdotally, it's easy to pick apart specific stories in specific papers or channels. But, admittedly, selected examples of purported bias, like the man-on-the-street interviews so often complained about, are not particularly compelling if you don't already believe the story line. But I do want to list a few anecdote-driven arguments that I do find somewhat compelling, before moving on to more substantive evidence.
For me, the cries from liberals of Fox News this, Fox News that, is simply more support for the idea that most media is liberal. In my view, Fox News is the mirror image of CNN, MSNBC, and the network news channels. Yes, it is right-of-center. Yes, it's commentary, tone and choice of stories, particularly in regard to the Iraq war, is more conservative than those of the other cable news channels. But it is no farther right of center than the other channels are left (if this causes some sputtering on your part, be patient and I'll return to this point below in the evidence section). In my mind, the "outrage" of Fox News' bias, should inform liberals more about the plight of conservatives before the advent of Fox News, than about the unfairness of the system. To those that would argue that CNN is just more "objectively true" than Fox News, I would respond that we've reached one of the fundamental difficulties in tackling media bias – the subjective nature of the labels ("conservative", "liberal", "biased", "objective"). Whether your epistemology has room for objective truth or not, you should at least be comfortable admitting that the application of the label "objective truth" is itself subjective.
Second, on one particular issue, the Iraq war, I have been struck by the non-stop flow of people returning from Iraq who claim that their experience does not match up with the view portrayed by the media. While these people, often military personnel, diplomats, or representatives on fact-finding missions, are certainly not unbiased themselves (they went there for a reason and, like all people, have an agenda), the consistent stories they tell and evidence they cite, leads me to conclude that the media is missing an important part of the story. Can I assign this failure unequivocally to bias rather than laziness? No. But the effort put into telling other parts of the story, leads one to presume.
Finally, there is the argument that all people cannot help but inject their personal viewpoints into their reporting. Yes, this is an argument against "objective news". Beyond the question of getting the facts right, a thousand subjective judgments go into the final product we call news. From story selection, to choice of interviewees, to editorial decisions, to headline writing and layout decisions (above-the-fold/below-the-fold), to vocabulary – each contains a potentially unconcious viewpoint. I was particularly struck by Brad A.'s example (admittedly making a different point) of the language choice (either latinate or vulgar) between the majority and the dissent in partial-birth abortion cases. At a minimum, these conscious or unconscious word choices will color the final product. And this is problematic when the evidence (see below) leads us to conclude that there are many more liberals in the news business than in the population. For (final, anecdotal) example, it's difficult (at least for us cynics) to see how an editor this vociferous in his partisanship could lead an unbiased news organization.
Evidence
But enough anecdote and argument. Is there evidence that the news media is liberal? A first question, which again gets to the heart of the problem, is "What do we mean by liberal?" "More liberal than me" is obviously problematic. Self-reported liberals is equally difficult, because it just moves the subjectivity from the observer to the observed. More liberal than the average (median?) American, sounds right but has measurement problems. More liberal than the average human is probably less relevant for talking about US media, and even harder to measure.
Different studies have used different techniques, some fairly clever, to answer this question and I want to highlight a few of them here.
First, the Media Research Center has a round-up of surveys and studies that discuss the voting record of various groups in the media: White House correspondents, Washington bureau chiefs, Congressional reporters. Some of the information is old, but a particularly striking example is given in Elaine Povich's book, Partners and Adversaries: The Contentious Connection between Congress and the Media. According to a survey, 89% of Washington correspondents voted for Clinton in 1992 and only 7% for Bush. By contrast, 37% of the American public voted for Bush. To put it in perspective, fewer of the journalists voted for Bush than did voters in even the most liberal counties in the country. Even the county containing Cambridge, MA registered 19% for Bush.
The site, which again I want to point out assuredly has its own agenda, has plenty of other statistics.
More recent data can be found in this 2004 study conducted by the Pew Research Center for the People and the Press and the Project for Excellence in Journalism. You can read the final report here [PDF]. There are other interesting things in the report, including journalists' concerns over a commercialized editing room, that are worth reading as well. The survey of 547 journalists found that 34% of national journalists consider themselves "liberal" versus 20% of the population at large. Only 7% considered themselves "conservative", versus 33% of the US population. While these self-reported labels are obviously problematic (for instance, are the 54% of national journalists who call themselves "moderates", actually conservatives who are afraid to say so or liberals who, compared to other journalists, consider themselves moderate), the survey points to views about religion as being a key differentiator between the public and journalists, with 58% of the public holding the view that you must believe in God to be moral, while only 6% of journalists do.
These facts argue strongly that the individuals in the media, the reporters, editors, anchors and correspondents, are more liberal than the average American. But what about their reporting? An argument could be made that, recognizing the prevalence of their bias, the journalists would bend over backward to be fair in reporting on issues, if only to allay the suspicion of bias. Perhaps we should expect conservative reporting from a liberal media. Then again, perhaps, as I argued above, we should expect unconscious liberal coverage despite best intentions.
A final study from Yale University, recently released, and dicussed in this article tries to get at an answer to this question. The full report can be found here and is definitely worth reading to fully understand their methodology. The authors build on two previous works. First, the scores calculated by the Americans for Democratic Actions (ADA) which measure the "liberalness" of members of Congress based on how often they vote the ADA's side of the issue. A politician's ADA score (also known as a liberal quotient, or LQ) is often used to rank how far right or left she is, and the rankings tend to track, at least relatively if not absolutely, intuitive feelings of which members of Congress are "more conservative" or "more liberal" than others.
The researchers also build on previous work that tried to judge media bias based on how often they quote from "liberal" vs. "conservative" think tanks. This obviously begs the (perhaps less difficult but still vexing) question of which think tanks are liberal and which conservative. Whether the Brookings Institution is more liberal than RAND Corporation is a typical question.
The authors try to solve this problem by taking a period of time and looking at which think tanks members of Congress quote most often and matching that with their ADA score to assign an imputed ADA score to the think tanks, that rank orders them according to how far left and right they are. This method passes some basic plausibility tests in that the Family Research Council and the Heritage Foundation get very low scores (since they are quoted most often by hard-right members of Congress) while the Economic Policy Institute gets a high score (for being quoted most by very liberal members of Congress).
Finally, they took a sample of articles from major publications and counted the citations of the same think tanks. They made obvious corrections, like disregarding references that were only used to argue against the think tank's position. They used the metrics to give the media outlets a likely ADA score (using the maximization of a likelihood function – see the paper for details). The paper also has many other points about why this metric is appropriate (or at least the best available).
But before people claim that Amnesty International (11 points above House median) is a "legitimate" organization, whereas the National Right to Life Committee (24 points below the median) is just "bunk" and "propagandists", let me remind you of the subjectivity that we're trying to remove through this exercise. One man's propaganda is another man's gospel truth.
The authors were surprised by the results, which show that all media outlets tested, except for Fox News, were more liberal than the median representative in the House. In fact, Fox News was much closer to the median of the House than any of other news outlets. In their words:
We now compute the difference of a media outlet's score from 39.0 to judge how centrist it is. Based on sentences as the level of observation (the results of which are listed in Table 8), the Drudge Report is the most centrist, Fox News' Special Report is second, ABC World News Tonight is third, and CBS Evening is last.
Given that the conventional wisdom is that the Drudge Report and Fox News are conservative news outlets, this ordering might be surprising. Perhaps more surprising is the degree to which the "mainstream" press is liberal. The results of Table 8 show that the Los Angeles Times, the New York Times, USA Today, and CBS Evening News are not only liberal, they are closer to the average Democrat in Congress (who has a score of 74.1) than they are to the median of the whole House (who has a score of 39.0).
And here's the figure from the report: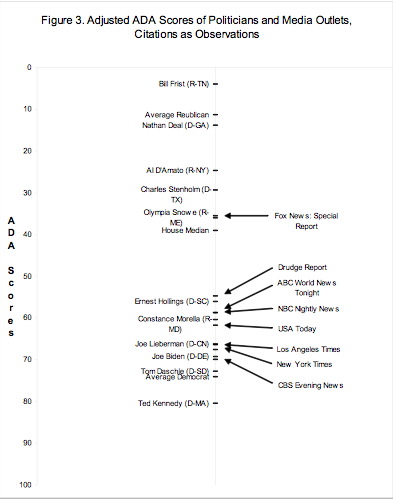 Regardless of whether you buy this specific methodology (and there are obviously
some problems
with it) it is an attempt to provide a metric that can measure the bias. Whether you should believe it "objective" or just another in a series of biased accounts of media bias is up to you.
If you have references to other studies (or even arguments) that refute these claims, please put them in the comments. In fact, I'd even be happy to see some anecdotes. For now, thought, here are some further readings:

Posted by richard at July 4, 2004 11:59 PM