July 31, 2004
Pantagraph
Besides having an awesome name, the Bloomington Pantagraph has charged that Michael Moore doctored the image of their paper that he showed in Fahrenheit 9/11:
A scene early in the movie that shows newspaper headlines related to the legally contested presidential election of 2000 included a shot of The Pantagraph's Dec. 19, 2001, front page, with the prominent headline: "Latest Florida recount shows Gore won election."

The paper says that headline never appeared on that day. It appeared in a Dec. 5, 2001, edition, but the headline was not used on the front page. Instead, it was found in much smaller type above a letter to the editor, which the paper says reflects "only the opinions of the letter writer."
For those that care, here's a screenshot of the image: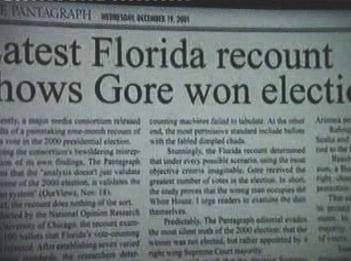 Now, granted, this is flashed on the screen for 1.5 seconds in a collage of other headlines and makes little difference to the main thrust of the movie. But, to the point I've made before, if he's willing to do this kind of thing for a side story, why should I trust anything he has to say about the important things: the oil pipelines, the Saudi relations, the recruiting techniques.
Posted by richard at July 31, 2004 12:13 PM